A Bold New Idea in eBook Marketing. Pulitzer-Nominated Author, and former Oprah guest Gene Cartwright Releases a Six-In-One eBook Collection of his Current and Actively Selling eBook Titles. Is This New Approach a Smart Idea? Will Others Follow?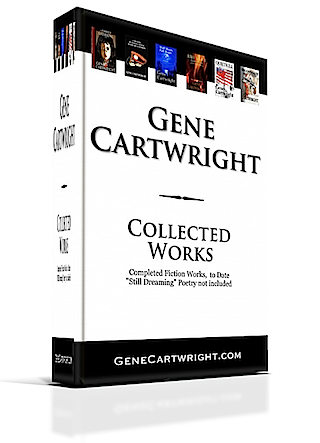 Cartwright's out-of-the-box promotion idea  is either smart or dumb. There is no in-between. Despite having more than a half dozen eBooks already selling on Amazon, Apple, Barnes & Noble, Kobo Books, and other sites, he's willing to gamble. It does not hurt that the author has a dedicated following, and is a "great interview," as many in the media will attest.
Having award-winning Actress, Cicely Tyson as a fan, is a huge plus. She said of his Pulizter-nominated third novel, 'A Family Gathering:' —"I have not been so moved by a book since I read Alex's [Haley] book." —Gene rightfully considers hers high praise.
So what is the fuss all about?
While the war rages in eBook world,  with courts getting involved to manage price-setting disputes between major publishers, Amazon, Apple iBooks and others, author and former Oprah guest, Gene Cartwright is innovating. Gene's goal is to promote his novels and other books/ebooks in a manner that benefits his small publisher, himself, and the reader/buyer.
To that end, and in what his publisher, Falcon Creek Books (an iFOGO Company) believes is a first, six of his currently selling, and individually priced eBooks versions of his print titles, are being offered in a single eCollection. While other authors and eBook marketers may question the move, Cartwright believes his marketing experiment may in fact set a precedent among other authors.
How?
The promotion is an attention-getter in a field that his jam-packed, to say the least. Cartwright and his publisher are convinced that, while the story and quality of the writing is an essential and critical factor, price to benefit ratio, within reason, must weigh on the side of benefit to the end user—the reader. Still, the 6-in-1 collection is for a limited time.
Gene's Cost-Saving Offer For Readers.
When one purchases "Gene Cartwright's Collected Works" the six volumes containing nearly 2000 print books pages in many more in digital pages, for a paltry $9.99, the savings (during the promotion) is obvious. The current price of 'A Family Gathering' alone, is $7.99 right now.
Author Offers Free eBooks.
Even with this first-ever eCollection Offer for eBook buyers, author Gene Cartwright insists on even more: At the author's web site, when buyers purchase print books, the books are autographed, and they receive a Free eBook version of the purchased title.
Available for all eReaders.
The Amazon offering is, of course for Kindle but for other formats using the Kindle APP. The pure ePub or iPad version is available at the publisher's site, and the author's site, and available for immediate digital download.
Gene insists he's not trying to blaze a new trail here but, along with his publisher, is trying to find a way to compete with "the publishing giants," as he puts it. They've got huge promotion budgets. Other authors and small publishers have to find a way to compete.
This author, inventor, composer, and filmmaker who still relies on the reasoning and critical thinking developed as the engineer he once was, may just have a point here.
The titles included in the collection are: A Family Gathering, I Never Played Catch With My Father, Half Moon Full Heart, The Widowmaker- Heat of The Night, Quietkill, and Fire Night.'His first book of poetry (not in the collection), Still Dreaming, presented in what he calls a visual poetry format, is another example of exploring outside the lines.
About Authors and Writing.
Authors must be, and should be properly compensated for their intellectual creativity. Writing a book is an intense,  physically and emotionally demanding effort. Gene feels that while eBooks open up a market for authors, and a treasure of books in a compact format for those who embrace the technology, there is nothing like holding a real book in one's hands. While a hundred books cannot be placed in one's backpack,how does one place dozens or hundreds of books on one's home bookshelf?
When asked, to what he attributes his insatiable appetite for exhibiting his broad-based creativity and quests for the "new," Gene says: "I was blessed to be born at the right address — the home of my parents."
Visit: Amazon Collection: (http://www.amazon.com/Gene-Cartwrights-Collected-Works-eb…)
Visit: http://FalconCreekBooks.com
Visit: http://GeneCartwright.com
Visit: Author Bio: (http://genecartwright.com/MyBio)
Visit: "Play With Your Kids" Campaign: (http://playwithyourkid.com)
Visit: Reader/Writer Social Network: iFOGO Village (http://ifogovillage.ning.com)