Simple solutions are often the most ingenious and valuable. Finally, on IndieGoGo, a patented solution offers pain relief to millions of suffering drivers.
LOS ANGELES – Dec. 28, 2015 – The secret is out. Finally, thanks to a 'Paid Informant,' stress relief for drivers is here. What are Cruise Cushions™?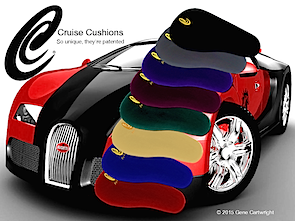 It's often said that "necessity is the mother of invention". That is certainly true in the case of a brilliant but simple new invention now on the IndieGoGo crowdfunding site for a limited time: the 'Cruise Cushion'. It's so unique, it's patented.
It all started when the inventor, and longtime driver, Gene Cartwright, kept moving his left arm from place to place, desperate to find a comfortable, impact-free, ouch-free spot when driving.
No Luck! You know that feeling, right? You park your elbow on the sill, then the armrest that is way too low and often too hard, then the steering wheel. And what about that dead space between the door and seat? And, imagine a comfortable rest for your right arm and hand on the console.
The condition is called 'Driver's Elbow'. The medical condition, researched by The National Institute of Health is called Ulnar Neuropathy. Driver's elbow is real. Ask anyone who spends significant amounts of time driving.
But don't take our word for what this stress-reducing auto necessity can mean for you and those you know. And CRUISE CUSHIONS™ are ergonomically designed to countour to a driver's or passenger's body.
The IndieGoGo Campaign offers this once-only opportunity for great savings on this unique, patented product that is not available anywhere else. Join us on the ground floor and be a reason for it's global sucess.
PLEASE SEE DEMO VIDEO, complete details, and how to become one of our "Sharks!" at: https://igg.me/at/gcart
https://www.indiegogo.com/projects/cruise-cushions-end-dr…
PLEASE CLICK THE SHARE BUTTON WHEN YOU VISIT US ON INDIEGOGO