Hate is taught and learned.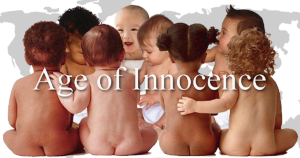 These days, it seems the deadly results of unbridled hate is all around us. More than ever, each of us should examine our own lives, and root out the hate and prejudices we all have. Children, in their Age of Innocence, are the perfect example of how we should regard each other.
Age of Innocence
When former Oprah guest author, Gene Cartwright, created his 'Age of Innocence' message/images, and designed his ultra-quality posters, and postcards, he had no idea they would take on the meaning and significance they have. Now, he is making this powerful message available worldwide. It is his mission.
Children are born bare, beautiful, and free of hate. We all begin life this way. Hate and prejudice are taught and learned. So what are you doing to change the world in which you live?
Help Deliver a Powerful Message.
The Age of Innocence Photo-Art Poster
I created reflects what is best about the beginning of young lives, reminds us of what is so often lost and replaced by what often accompanies evolving into adulthood. My hope is that the poster challenges us all to pause and reflect upon each action we take, and what we we day to determine whether our passing will be mourned or cheered.
(Frame for demo purposes)