"I absolutely love it, but…"
After the Senior Vice President of Development, at a celebrated, award-winning production company with a Disney deal, read my screenplay,
'A Quest for Angels', she practically gushed: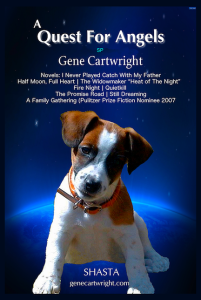 "I absolutely love it," she said. "What's left to say?"
I listened, and waited.
"There's just one thing," she went on. I waited. "I honestly don't think a studio would back a film, even this one—with its amazing young girl in the lead, and her cute dog companion, because — because she has cancer."
I was hoping not to hear this, but there it was. "Okay," I said, "but she's spirited, precocious, not hospital-bound; she inspires other kids and her parents; she has cancer; it does not have her, and…it's E.T. with four legs and a bark. Also…"
I stopped, recognizing the futility of trying to convince this Sr. VP, that having leads with physical challenges is not exactly new—even aids, and cancer. I pointed out films include "Love Story," The Bucket List," "Step Mom," "Dying Young," and others.
"Those are the exceptions It's a hard slog, especially these days," she added.
I am, however, determined that this film gets made—even if I have to involve the Sultan of Brunei, the Tooth Fairy, or whomever.
The main character, Emma Lynn Stewart, battles A.L.L, —acute lymphoblastic Leukemia. With a boundless spirit, she encourages her career-obsessed, but doting parents, that she will be all right The film turns on her spiritual bond with her beloved but mysterious Jack Russell Terrier, whom she receives as a birthday gift from a pet store that never existed.
Log line:
A spirited, precocious, 7 year-old girl with A.L.L, adopted into affluence, receives a mysterious Jack Russell terrier, from a pet store that never existed, then vanishes without a trace.
'A Quest for Angels' is on 'The Black List,' — a highly-respected web site, "Where filmmakers find great material to make, and great material finds filmmakers to make it."
It is said, "Nothing ventured, nothing gained." The word 'no' is only a beginning, and much better than "Go to hell, I never want to hear from you again." But, even that kiss-off (which I have never received, nor ever expect to receive) requires time, effort, and a certain willingness to take a moment to spew. – So, always forward!
Whether a Hollywood studio backs this film, or we raise the funds to produce it ourselves, we vow to donate 10% of any campaign's donations, and 10% of any earnings/proceeds to The Leukemia Foundation.
Author's Web site: GeneCartwright.com
Interested industry parties may request a hi-res PDF of the screenplay or visit The Black List http://blcklst.com
______
Please, register to leave comments.