Former Klansman and Selma Alabama native David Earl Applewhite's journey to redemption lasts fifty years. It ends with his final battle with demons of his own creation, and a powerful lesson in love and forgiveness few could have imagined.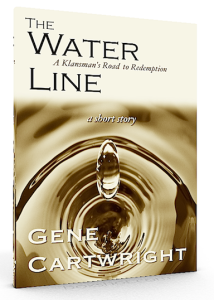 It came in a dream: this story, The Water Line, the likes of which you have never read. We know it's a bold statement but it's true. Pulitzer-nominated author of ten books and former Oprah guest, Gene Cartwright, was inspired to write this remarkable short story more than two years ago, after a dream that practically revealed it intact. He finally penned it a month ago.
The lives of two 13 year-old boys: David Earl Applewhite, white, and Henry Lee Davis, black, dramatically intersect during a holiday celebration near Selma, Alabama in 1953. You know the era, the times, the state of black and white in this country. Each lived in worlds separate and unequal, privileged and denied. David's father, who was one of the policemen on The Edmund Pettus Bridge in 1965, inducted his on into the Klan at age of nine.
Emblems and symbols of a racist past and present were freely flaunted, and offered little reason for hope for a different future in Alabama or elsewhere in the Deep South. Yet Henry, his family and others clung defiantly to hope, risked life and limb to act, and pressed on.
What happened that hot July day joined Henry and David forever, without need for permission from either or blessings from others. They were bonded for life, yet never spoke a single word to each other then or until 17 years later.
In 1968, after both had served in Vietnam, the country erupted following the assassination of Dr. Martin Luther King, Jr.. This was five years after the slaying of Medgar Evers and four years after the murders of Shwerner, Chaney and Goodman in Philadelphia, Mississippi—Ronald Reagan's first campaign stop following his GOP nomination in 1980.
In 1970, the lives of David and Henry came together in a way no one expected, and one that brought suffering on both sides of the color line that lasted fifty years, until the year 2020.
Yes, 'The Water Line' takes us forward, both chronologically and hopefully morally. Central to the story is the undimished love of soft-spoken but steel-spirited Sarah Davis for a husband she could not touch or hold in her arms.
The ending no one will see coming is elevated and illuminated with an example of love and forgiveness no one could have dared imagine.
We invite you to read The Water Line for yourself. It is available as an eBook in all formats. See Smashwords: http://smashwords.com or Amazon: http://amazon.com. Be sure and visit the author's web site at: http://GeneCartwright.com
To Mr. Robert Duvall and Ms. Cicely Tyson. Gene expresses deep thanks and appreciation. Your immeasurable award-winning talent, and personal attributes served as templates for the The Water Line's principal characters, both in the short story and the completed short film script.
Thanks! Falcon Creek Books/