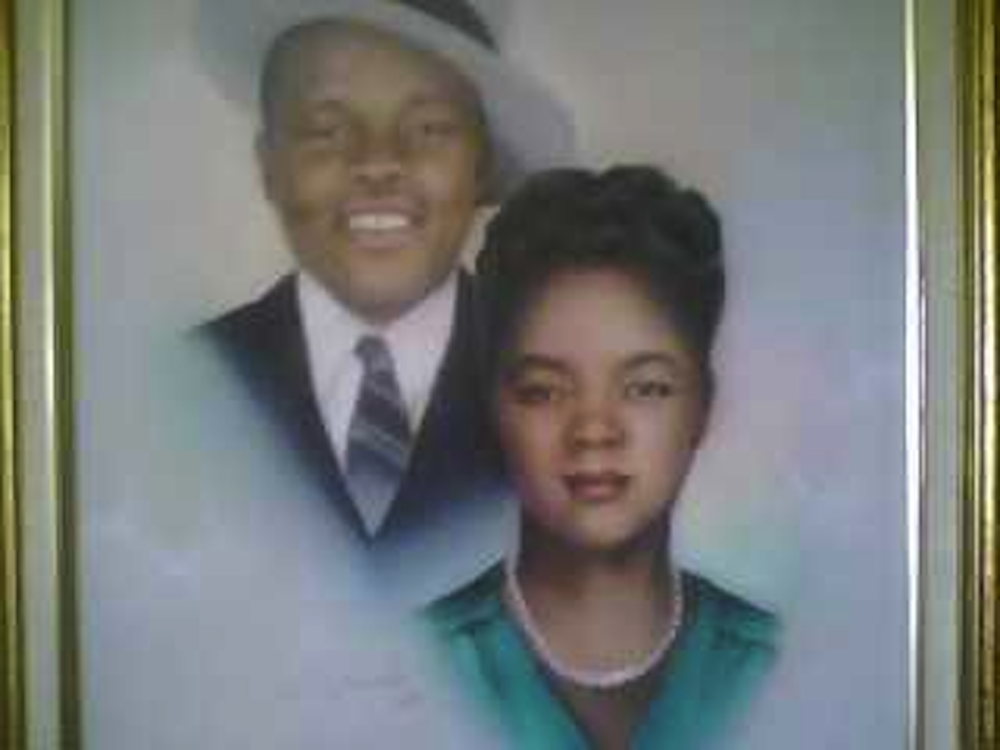 A Celebration of the love shared by my sainted parents.
Today, July 6th, is my birthday. I am the second child and first son born to the best parents God ever created. However, my acceptance of congratulations and well-wishes are—to quote a well used phrase—like a crowing rooster taking credit for the sunrise. I had little to with this miraculous and blessed event.
For as long as I can remember, I have viewed my approaching birthday, not through my eyes but have tried to see it through the eyes of an anxious, excited, prayerful and hopeful twenty-something black couple surviving in a small, Gulf-Coast Texas town in the Jim Crow era. Politics, racism and bigotry aside, my thoughts are always sharply drawn to them—Marie and Elmer Cartwright.
My parents met, fell in love, married two months later, and remained married for more than a half-century— until my father's passing. Leading up to, and on this day, I try and place myself in their shoes, individually. I wonder what the months, weeks, days, and hours were like leading to the instant my mom knew her "time" had come.
I envision my doting and attentive father on-guard for the slightest hint of pain or discomfort exhibited by my mother—his "Bae." In those early morning hours, arrangements for the trip to the hospital (which served both whites and blacks) were in place. Not having a car then, my father's best friend was ready and waiting. Then the moment arrived.
During those days fathers were not permitted in the delivery room, and so were left to languish on the edge of their seats in the waiting room. I imagine observing both my mother and father during those tense and uncertain hours.
Although she never spoke of it, and I never thought to ask, I wonder how she coped with the pain, the contractions, the heightened anxiety. There was no such thing as an epidural. I remember her speaking of something called a "local," — likely mild sedation given to reduce pain.
I imagine what the actual delivery was like for her—my birth, my being held upside down and made to cry to clear my lungs, her seeing me for the first time and making sure I was alright. I know her first barely audible words were: "Thank God." Often, newborns would be taken away, cleaned and dressed, then soon thereafter returned. It was then my mother was able to hold me for the first time.
Not long afterwards, the doctor would have gone to the waiting room to inform my father his first son was born a healthy, bouncing eight+ pounds and twenty-one inches. Knowing my dad, immediately after shaking Dr. Lillie's hand, his first words would likewise have been: "Thank God." Next, he would have asked how soon before he could see Mom and me.
My extended family and friends would have to wait for the news. There were no cell pones and many poor families had no home phones. Sure to pattern, if Deacon Phillips or his wife, Maude or the right person at St. John Missionary Baptist Church were told, word would be quickly shared throughout the community.
And so, that's where my mind goes to as each July 6 approaches. There's much more I could write about my thoughts in that regard but I'll close here.
While I recognize and pause to celebrate the generic "Mother's Day and "Father's Day," my celebration is made deeply personal and more poignant by celebrating these two amazing and inspiring people of love and Faith on the day of my birth.
And while there are many not as fortunate as am I— those not blessed with sainted parents—I hope you find my experience meaningful as you view your own life. If you at least have a mother (and hopefully a father) for whom you hold a deep and abiding love, you may now consider viewing your birthdays as I do mine.
---
The following are two poems I wrote in honor of my mother. Both are found in my "Still Dreaming" book of poetry. "My Mother's Voice" is found in "Half Moon, Full Heart."
Her Hands
©2004 Gene Cartwright
Calloused, scarred, and bruised.
Her hands.
Bearing silent witness to her love.
Her hands.
They spoke of hardship and sacrifice.
Her hands.
I held them, tried to soften them.
Her hands.

She smiled, knowing all the while,
any change would be small;
hardly noticeable at all.
Her tasks would not diminish,
her chores would never finish;
my efforts could not replenish
the velvet -like touch,
the youthful beauty of…
her hands.

Yet, none were ever more beautiful.
Her hands.
They fed me, they nurtured me.
Her hands.
They were gentle, and reassuring.
Her hands.
She clasped them to pray for me.
Her hands.

And all the while, she just… smiled,
never once cursed the rain,
nor despaired of her pain.
She would often comfort me;
she used humor to make me see
how difficult things would be,
were she a lady of leisure,
determined to preserve…
her hands

Now, daily, when I recall
her seasons of life, and all
that she was and might have been
I know the God shown in her life,
the joy that leaped from her face,
the love in her eyes that flowed from
her heart were made real by the touch of…
her hands—My Mother's loving hands.


My Mother's Voice
She spoke to me in a calming, melodic voice,
though I yet longed for first breath.
Even then, my heart beat to the rhythm of her soul.
It marched to the cadence of her pure spirit.
It flourished in the still comfort of her being.
And I heard my mother's voice.
She spoke to me in a quiet and sure voice,
though I had yet to touch her sweet face.
Even then, my heart beat to the rhythm of her soul.
Her blood flowed to the reaches of my own eternity.
Her breath filled me with life, everlasting.
And I heard my mother's voice.
She spoke to me with an endless, eternal truth,
though I had scarcely seen first light.
Even then, my heart beat to the rhythm of her pulse.
It soared with the lift of her tireless wings.
It rejoiced in the glow of her guiding light.
And I heard my mother's voice.
Know this. I am the fruit of shared love,
brought forth by unseen, yet unfailing hands
that shaped the universe.
I am a solemn song of ceaseless prayer,
voiced without end; an answer bestowed
long before the Amen,
granting my own Genesis,
and even my Revelation.
She spoke to me in a thousand tender ways,
though I answered with only needs and wants.
Even then, she gave beyond her own possessions,
with the eternal love and vision of an angel,
without a want for merit or mention,
And I heard my mother's voice.
And still she speaks in a voice that fills my being,
though her face eludes my sight and touch.
Even now, my heart beats to the rhythm of her soul,
It marches to the cadence of her pure spirit,
And I still hear my mother's voice.
Yes, in deepest dark or brightest light,
I still hear my mother's voice.
And when I am no more,
and not even my deepest footprints remain
for young eyes to see,
Even then, hearts will beat to a rhythm
they did not compose.
They will march to a cadence,
not their own,
And they will hear their mother's voice.
Yes, even they will hear their mother's voice.
---