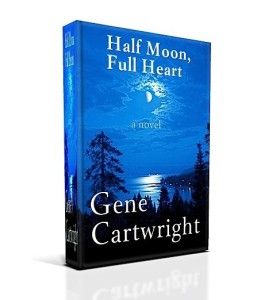 "A Love Story Like No Other"
On a fateful road trip across country, from California to Boston, a recently divorced woman languishing in the basement of her life, stops in a small, Texas town and discovers a reason to live forever.
That's not my characterization, although I readily accept the statement and am humbled to do so. My hundreds of readers almost unanimously agree that is a love story the way love stories were once told.
"Why isn't this story a movie already?" They ask. My response is always, Hollywood is…well, Hollywood. I just keep writing. My goal is to not to have my novels turned into films, although that would not necessarily be a bad thing.
However, I write and have written a number of screenplays as well. And like in most literary endeavors, the joy and satisfaction has to come in the writing itself.
So, here's the first chapter or so of Half Moon, Full Heart. I have also included an audio excerpt of a few chapters. Enjoy. To learn more about all my novels, see: GeneCartwright.com. To see more about my screenplays, see: ReadyForFilm.com. If you are an author, and would like to join our free author/buyer network, see: iFOGO Village.
Their first time alone, really alone.—
"And they danced. Bathed in the soft glow of a half moon, they danced. David Joe held Jessie Marie as close as he knew how—as close as he dared, and they danced. He held her so close he felt their hearts beating in unison like a lovers' duet, and they danced. They danced to every song that followed; until the battery in the small transistor radio grew weak, and the melodic sounds of The Platters faded. And even after the radio fell silent, and the night grew old, they danced."
A POEM (a poem appears in the beginning of all my books)
My Mother's Voice
© 2002 Gene Cartwright
She spoke to me in a calming, melodic voice,
though I yet longed for first breath.
Even then, my heart beat to the rhythm of her soul;
It marched to the cadence of her pure spirit;
It flourished in the still comfort of her angelic being.
And I heard my mother's voice.
She spoke to me in a quiet and sure voice,
though I had yet to touch her sweet face.
Even then, my heart beat to the rhythm of her soul;
Her blood flowed to the reaches of my own eternity;
Her breath filled me with life everlasting.
And I heard my mother's voice.
She spoke to me with a timeless, eternal truth,
though I had scarcely seen first light.
Even then, my heart beat to the rhythm of her pulse;
It soared with the lift of her tireless wings;
It rejoiced in the glow of her guiding light.
And I heard my mother's voice.
Know this. I am the fruit of shared love, brought forth by
unseen, yet unfailing hands that shaped the universe.
I am a solemn song of ceaseless prayer, voiced without end;
an answer bestowed long before the Amen, granting my own
Genesis and even my Revelation.
She spoke to me in a thousand tender ways,
though I answered with only needs and wants.
Even then, she gave beyond her own possessions,
with the eternal love and vision of an angel,
without want for merit or mention.
And I heard my mother's voice.
And still she speaks, in a voice that fills my being,
though her face now eludes my sight and touch.
Even now, my heart beats to the rhythm of her soul;
It marches to the cadence of her heart song.
And I still hear my mother's voice.
Yes, in deepest dark or brightest light,
I still hear my mother's voice.
And when I am no more, and not even my deepest
footprints remain for young eyes to see,
Even then, hearts will beat to a rhythm they did not compose.
They will march to a cadence not their own.
And they will hear their mother's voice.
Yes, in deepest dark or brightest light,
even they will hear their mother's voice.
—Gene Cartwright
Chapter I Prologue
In The Beginning
Once upon a time,
it was 1955. Eisenhower ('Ike') was President; a stamp cost three cents; Popsicles came two to a package; Elvis was twenty; and against all odds, young David Joe Fallon, Jr. and Jessie Marie Taylor were in love. The End.
And the story may well have ended there, were it not for the latter. It has been said, few younger than twenty or so could possibly know true love. That may be true for most, but not for Jessie Marie and David Joe, both of whom lived in Rosedale-a small, north-central Texas town-back in the 1950s.
First taken with each other at age nine, these love-struck youngsters would grow to profess a love so deep, that in their hearts and minds it transcended life itself.
And despite Cyrus Ecclesiastes Taylor's success in keeping his daughter and David Joe apart, there was never any doubt these two lived and breathed each other. Not much else mattered to them. Taylor's actions, born of his intense hatred for David Joe's father, only served to steel the young lovers' vows to love each other forever.
Theirs was a love cloaked with an aura of destiny, imbued with an air of inevitability. Most everyone in Rosedale knew that to be fact. What they sacrificed and suffered, to nurture their love, accounts for their indelible place in the hearts of all who know their story.
And there could only have been one Jessie Marie and David Joe. Townsfolk, who were alive then, still speak of them in mythical tones. No true love story can rightly be told without the mention of their names, and the storybook lives they shared.
David Joe and Jessie Marie live on. And nearly fifty years later, the world beyond their part of Texas may never have known of, and been inspired by them, except for events half a country and nearly half a century away in southern California.
___
Chapter One
Monday Morning, September 11, 2000
Real love dies hard,
if at all. It struggles against reason; ignores all logic; resists, with every fibre of its being, the dark and painful descent to its demise.
Rachel Marin had always believed this to be infallible truth. It was now her reality. She had greeted the new millennium still clawing her way up from the basement of her life. Nine months later, jagged steps remained.
Sporting faded jeans, a white, Boston College sweatshirt—her Alma Mater—and white ankle socks, Rachel sat alone on the barren, white-carpeted, living room floor. With delicate fingers interlaced around knees drawn to her chest, she leaned lightly against the wall behind her. Rachel stared blankly at the Italian-marble fireplace across the room. But her gaze took her far beyond its polished surface—back into her past, yet forward to an uncertain future.
Tear tracks lined her unmade face. Her hair, finally auburn again, not blonde as David had always insisted, sought its own contrary course. Rachel glanced toward the partially open front door, past two large Coach suitcases, a clothes bag, computer bag, two camera bags: one still, one video, and two nearly identical, camel-colored briefcases. All were lined neatly, side by side.
Everything had been packed just so. The Apple G4 laptop was in it's reinforced bag, as were rewritable CDs, DVDs, zip disks, USB cable. A smaller canvas bag held a high-resolution digital camera, a Palm and assorted web devices, including a satellite Internet uplink.
A third briefcase, this one black and timeworn, held copies of manuscripts and publishers' rejection letters; she kept every one. There were dozens. "Fuel for my inner fire," she told herself. Rachel knew that writers who dream of being published often struggle to persevere in the face of rejection and self-doubt.
The Sony Hi-8 video camera was secure in its case, along with extra tapes and batteries. The still camera—a Canon EOS Rebel she purchased on her birthday in '95—had standard and telephoto lenses. She packed away 48 rolls of color Kodak film-half 200 and half 400 speed; 6 rolls of Ilford black and white film; 4 packages of lens paper and a large can of compressed air.
There was the large, weathered, tan leather case containing almost two hundred still photographs; a sheaf of torn movie tickets; a bundle of old love letters; dozens of amusement park ticket stubs; numerous luggage tags from memorable trips; a ream of faded notes, scribbled on coffee-stained restaurant napkins; scores of Christmas, birthday and even business cards. This was Rachel's life in bits and pieces. Nothing was more valuable.
Packing 'her life' away had not been easy. Rachel fought past an onslaught of persistent memories she thought she had banished. When the packing was done, she knew it would be a long while before she reopened the old case.
The two large suitcases held only clothing she really needed, plus a few pieces she simply could not live without. Everything else was donated to the Purple Heart organization in Altadena. Finally, a vintage, pea-green, US Army Surplus duffel bag was crammed with jeans, T-shirts and causal items requiring little or no special care.
~
Rachel's quaint, three bedroom, white clapboard and brick, South Pasadena house was on Mission Street, only blocks from Fair Oaks Boulevard. It had been her home for nearly ten years. Selling it was traumatic. Leaving it was beyond difficult. Except for the luggage, and the memories, the place was now empty.
She once shared the home, on occasion, with husband, David, a Paramount Pictures executive—the man with whom she had expected to spend the rest of her life. Their larger, more glitzy, Pacific Palisades home never really suited her simple, country-girl tastes. He was gone now, as were the reams of paper maché dreams Rachel once embraced.
She sat stone still, drew several deep breaths then started to stand. The time had come—the hour; the moment; the second ordained for her departure. The knowing was unmistakable. A nearly audible voice. A force that nearly yanked her from her place. She rose, lifted a large wicker basket brimming with fresh, fragrant rose petals, and made her way to the furthermost room.
~
Outside, a brilliant southern California sun. Inside, a shower of red rose petals floated onto a sea of arctic-white carpet. Rachel's eyes misted, as she drifted from room to room. She moved slowly, sowing symbols she prayed would yield a harvest of love for newlywed owners of her house. This was once her home. It was once a sanctuary for boundless dreams and fanciful imaginings. But no more.
For months, Rachel had walked a knife's edge between suicide and rebirth. Her Faustian choice rested between the near certainty of death, and the desperate quest for new life. And she was alone, as alone as she had ever been in her 38 years. She had not arrived easily at her decision to leave California. But she knew answers lay beyond its borders. But where?
Audio Excerpt: