Introducing Guest Blogger, Jane Austen Dickey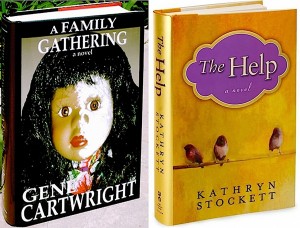 My very good friend and associate, Jane Austen Dickey surprised me when she informed me of her new press release. At her insistence, I agreed to have her guest blog and post her release here. She's very persuasive, you know.
____________
Gene Cartwright's Pulitzer-nominated novel, 'A Family Gathering' have many saying his epic overshadows 'The Help' in scope and substance. The author congratulates 'Help' author, Kathryn Stockett's great success, and discourages such comparisons.
FOR IMMEDIATE RELEASE
"Where Was God, on May 15, 1974?
When friends asked what I thought about the book and movie, 'The Help,' I knew their questions were prompted by more than a desire to hear my cinematic review. What they were really asking was: "Jane, what do you think of 'The Help,' compared to your favorite novel, 'A Family Gathering,' by Gene Cartwright (former Oprah guest). They knew they could count on my unbiased and dispassionate opinion. They were wrong, in part. I am never unbiased and dispassionate when talking about A Family Gathering.
Why were they wrong at all? First, my honest opinion is there is no comparison, except for the fact both are print and eBooks, and of course, The Help has sold over 5 million copies, and been adapted into a very successful film. I salute author, Kathryn Stockett and director, Tate Taylor for their accomplishments. I have no doubt brilliant director/producers, who already have review copies of Gene's novel, are preparing their budget estimates, as I write.
The Help reminded most of us, and informed other Americans of what life was like for black domestics—housekeepers; nannies, household help—during the fifties and sixties, in the South. The truth is, that life has not disappeared for far too many Blacks and Hispanics.
Without revisiting my lengthy critique of The Help, which I shared with friends, I herein choose to focus on Gene Cartwright's 'A Family Gathering.' In the words of award-winning actress, Cicely Tyson—who's brief appearance in 'The Help movie' was far too brief—Cartwright's epic novel, set in Arkansas in the 1960s to late 1980s, 'moved her like no other novel she had read since Alex Haley's "Roots." That unqualified praise and evaluation needs no elaboration.
A Family Gathering, first released by Falcon Creek Books as a 512page hardcover.
The Log Line:
It was 1974—the South.
She was 12; he was 16. She was black, the daughter of a poor Baptist minister;
He was white, the son of privilege.
What happened on a hot day in May changed her life forever.
His was unaffected, until the passing of 14 years of exile, a vicious murder, a callous display of arrogance and power, an unexpected visitor, and 'A Family Gathering.'
On May 15, 1974, 12 year-old, Deborah Yvonne Davis lived the last day of her first life. An innocent ride down Crispus Attucks Road, in backwater Reedville, Arkansas, with the son of the most powerful white family in Arkansas, would change her life forever.
When first published in 2006, author Gene Cartwright's third, and long-awaited novel was fourteen years in the making—giving way to the writing of Gene's other novels: 'I Never Played Catch With My Father' (subject of a five top-publishers auction), Half Moon, Full Heart,' and 'The Widowmaker.' This bold saga, details the 'tragedy to triumph' life of Deborah Yvonne Davis, a young black southern girl, daughter of a rural, Baptist preacher. The historic framework of the years the novel covers does not overlook the true and sordid history of the times.
The A Family Gathering saga is no tale of unrequited victimization. It is steeped with realism and vivid detail from the very first paragraph. It takes risks, pulls no punches regarding racism, bigotry, black-on-black conflict, internecine warfare, southern politics, and family. It overflows with rich flavor, texture, detail, and realism.
From the beginning, the reader realizes that a major plus is the absolutely gifted and realistic dialogue in this novel. The truth is, a screenplay literally leaps from the pages. You will think you are eavesdropping on real people. The first paragraph is powerful:
———
from Chapter One's opening:
In Her First Life — Life in the 'Sticks' – Reedville, Arkansas, 1974
"It usually killed old folk first.
Especially poor ones—"The Disposables:" poor, feeble, often lonely, living alone. Infants were likely next—"Poorborns:" newborns, mostly poor, mostly black. Proof, to many, that even the gods favor the rich."
———
Some, within the black community, and perhaps others, will likely decry the author's raw portrayals. They will say it reveals too many secrets. But no one will say it is not honest. The characters are so well developed, you will swear, you know these people. There are no ethnic boundaries here. This novel does not paint one ethnicity as devils, and the other as angels; it is brutally frank. One cannot view this book, and resist examining it further.
But beware. One is quickly drawn into the story of this young girl, who spends fourteen years in a purgatory forced upon here—one that did not have to exist. Though later marked for death, she triumphs, confounding those who prayed she never returned to Reedville, Arkansas. But she does return, to reclaim her life: her past, her present and her future. And many, especially some in high places, will pay dearly.
So, are there comparisons to be made? I leave that to others. It is the last thing Gene would do, and discourages it from those friends who have read both books. He often speaks of the tremendous dedication and passion it takes to commit to being an author. One of his favorite statements is: "Becoming an author is not the path of least resistance in any way. I am sure most would agree there are many much easier paths to pursue: bullfighting, snake-handling, alligator wrestling, and sky-jumping over active volcanoes come to mind."
My advice? Read both. See Gene's web site: http://GeneCartwright.com; read page-turn excerpts online; Visit Amazon, Smashwords, and iBooks. Available for all eReaders.
And finally, if you get a chance, ask Cicely Tyson to share her feelings about A Family Gathering.
– Jane Austen Dickey, http://ifogo.com